El niño y los chivos / The Boy and the Goats
Sinopsis del Libro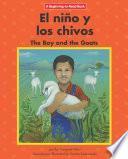 An easy story, in English and Spanish, about a boy who cannot retrieve his goats from a neighboring field, however, a rabbit, fox, wolf, and a bee come to his aid. Beginning-to-Read™ books foster independent reading and comprehension. Using high frequency words and repetition, readers gain confidence while enjoying classic fairy tale stories. Full-color and updated illustrations included. Reading reinforcement activities and a note to caregivers are included. Activities focus on foundational, language and reading skills. Perfect for an early introduction to Spanish or for ESL.
Ficha del Libro
Número de páginas 32
Autor:
Categoría:
Formatos Disponibles:
MOBI, PDF, EPUB, AZW
¿Cómo descargar el libro?
Valoración
4.9
91 Valoraciones Totales